Welcome to the electronic press kit (EPK) for Kyle Walz.  The following EPK contains various types of media for promotional purposes.  Visual, audio, video, and textual media may be used for promotion or other press related purposes.  You may contact Kyle online or via text or call 314-225-5272.  Kyle has various live music options.
Show Calendar
Listed are upcoming dates.  See a full history of Kyle's over 40 show dates.
2017-05-07: Solo at Springfield Artfest on the Inn Stage at 2:30pm
2017-05-13: Henry House Concert opening for Sarah Potenza.
2017-05-26: Solo show at Sky Music Lounge in Ballwin, MO 6:30-9:00.
2017-05-27: Solo show at Oasis Lanes in Union, MO 9pm to 1am.
2017-06-03: Performer at Webster Groves Art Fair – side stage 5-6pm.
2017-06-03: With The Rebounds at Maggie's Over The Creek in Union, MO 8pm to 12am.
2017-06-17: Solo show at Merz On Main in Columbia, IL 7:30-10:30pm.
2017-06-24: Performer at Refrain Showcase Event in Pacific, MO.
2017-07-14: Show with another performer TBA at Common Grounds in Strafford, MO 7-10pm.
2017-07-15: Solo show at Gaily Breakfast Cafe in Springfield, MO 10am-1pm.
2017-07-15: Solo show at Moon City Pub in Springfield, MO 9pm-10:30pm.
2017-07-29: Solo show with some music students sitting in at The Wolf in Ballwin, MO 7-10pm.
2017-08-31: Solo show at the Samuel C. Sachs Library in Chesterfield, MO 7-8:30pm.
Photos
Music Release Links
Press and Reference
People have written about Kyle and his music.  Here is a list of links.
Kyle's music is being played on various places.  Here are some internet stations and play lists.  Visit Kyle's Twitter for current play information.
From the mouths of people who have booked Kyle to perform, here is some information about his performances.
Randy Meyer, Host of Henry House Concerts; Pacific, MO
Kyle's guitar resonates catchy and cool … that's about the only way to classify him. Some combination of jazz, pop, country, rock, blues, punk, and calypso collide in a spicy-sweet stew, screaming archetypal and rare. Provocative lyrics of intellect and insight, accompanied by nimble picking, engage the ear like a dulcet summer storm. Yep, Kyle Walz is that kind of musician.
Steve Perron, Open Mic Host at The Wolf; Ballwin, MO
I am the host of the weekly open mic and monthly songwriters showcase at The Wolf in Ballwin. Our open mic is arguably the best in St. Louis and we feature many of the best local songwriters. Kyle Walz is the ONLY writer to date who has been invited to play the [Songwriter's] showcase twice. Kyle's songs have great hooks and better still, tell wonderful stories. Along with his writing skills, he is a gifted live performer who engages with the audience. And let's not forget his playing expertise. You're not going to hear bland 3-chord patterns in Kyle's songs. By the way, he is also an accomplished engineer and producer, and those skills clearly come through in his writing and playing.
Curt Newsome, Owner-Operator of Michelle's; Eureka, MO
When we started open mic night at Michelle's, the customers had no idea the treat in store for them when Kyle Walz took the mic and shared with us his original songs. With his prolific guitar playing skills and songwriting talents, Kyle is a crowd favorite at Michelle's!
Genetta Tomnitz, Teacher and organizer of Writer's Month Activities; Pacific, MO
Walz's music reminds us of the transcendence from archaic repetitive clichés of youth to the complexities of adult experiences. Though his guitar skills are prominent in his music, it is the combination of lyrics and riffs that cause you to delve into your inner memories and current desires. One moment you are taken back to a memory that made life simple and made you smile, and the next you are considering where your life is right now and where you desire it to go, whether you can say those desires out loud or not. "If You Only Knew" and "Drawn to You" are examples of songs with melodies that stay with you long after the song ends, and lyrics that make you yearn for someone who haunts your thoughts as much as the songs' melodies do.
Some Online Comments
Here are a few accolades and comments from Twitter.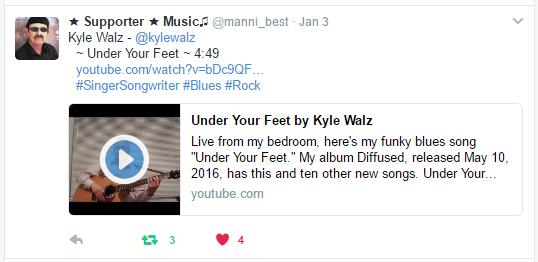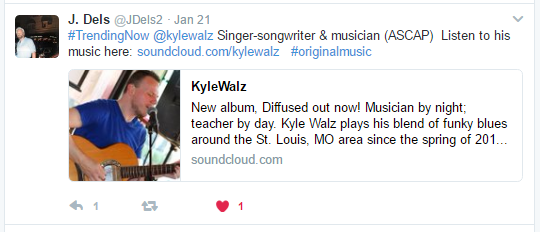 Here are some YouTube comments.  Most are comments related to my submissions to a song-a-week group.
Audio
Here is a medley of cover songs recorded live.

The following audio tracks come from Kyle's 2016 album, Diffused.



Video
Here is a clip from a Facebook Live video from February, 2017.

Brief Bio
Musician by night; teacher by day.  Kyle Walz plays his blend of funky blues around the St. Louis, MO area since the spring of 2014.  With strong musical origins as a guitar player since age 4, Kyle began writing songs and building performance experience by working through open mic nights, to songwriter showcases, to solo shows.  Always honest, raw, and giving his best Kyle is known for his bluesy power yet still will have the occasional original modern rock, RnB, calypso, or country song in the mix.
Electronic Press Kit
Kyle is readily available on various social media, on
KyleWalz.com
, and via
phone
.  The entire electronic press kit is updated regularly.